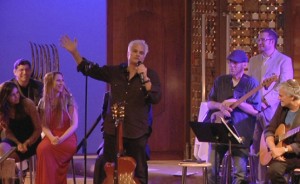 Y'all know I am a Craig Taubman groupie from way back, and it saddens me that the Silver Fox recently retired from leading the epically joyous Friday Night Live services at Temple Sinai in Los Angeles.
I'm sorry I never got to attend, though 2007's Hallelu in Atlanta was a small taste of Taubman's wonderful musical and communal legacy.
By all reports, the last gathering blew off the roof, including this truly rockin' rendition of "Mi Chamocha" featuring New Orleans clarinet riffs and a killer rap from hiphop's Jewish heart, Kosha Dillz:
I'm pretty sure rapping would cause considerable plotzing among regular Friday night congregants of historic Congregation Mickve Israel, but maybe Craig and Kosha would consider a reunion if they're ever down Savannah way?