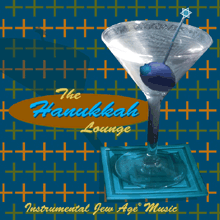 As a committed supporter of the endangered species known as the friendly neighborhood independent bookstore, you know if I'm stumping for a big chain it must be for an excellent reason:
This season Borders stores around the country have dedicated Chanukah retail real estate (so what if it's one table among all the Christmas acreage) featuring Yenta holiday favorites The Hanukkah Lounge and Celebrate Hanukkah, both produced by the machers at Craig N Co.
This is tremendous, people. It means that Jewish holiday music that you wouldn't be embarrassed to play at a party attended by non-Jews is finally permeating the nookies and crannies (and crookies and nannies) of America, where it will dissolve the repetitive nightmares of "I Have a Little Dreidel" and schlocky satire with its clean, snappy beats. Alas, as there is no Borders in Savannah, I cannot run there and stand next to the pretty Chanukah table (which, in my mind, can be seen from anywhere in the store due to the 20-foot towering menorah) and proclaim in a loud voice (the one El Yenta Man calls my "Jewish mother siren") how fabulous it is that Borders has finally caught on to the smokin' hot trends in holiday music and that there should be three tables next year, or better yet, all year round. But there's nothing stopping you, is there?