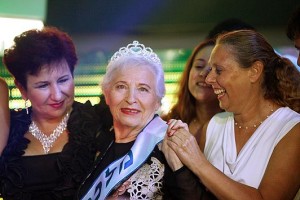 Oh, the people are OUTRAGED.
Lipsticking up 14 sweet old ladies, parading them around on a stage and making them compete for the title of Miss Holocaust Survivor? Hideous, right?
The grossest objectification of the females since "Toddlers and Tiaras," you say. "Oy gevalt!" cry the naysayers, their hands wringing. "What's next, a 10-episode season of 'Concentration Camps and Crowns' on the Style Network?
The international interwebs are burning up with footage of yesterday's first-ever Holocaust Survivor Pageant, held in Haifa. Over 500 women vied for the opportunity to strut their stuff and share their stories at the event; the final cuts were based on their contributions to the community, their personalities and maybe, just a little bit, on their beauty (physical appearance accounted for ten percent of the scoring, according to the organizers.)
Dressed in finery and nice flat shoes, women aged 73 to 89 walked the catwalk, the crown ultimately going to 79 year-old Hava Hershkowitz, who escaped the Nazis in Romania during WWII. According event organizer Shimon Shabag, she said the victory was "her revenge, showing how despite the horrors her family went through, her beauty and personality have endured."
I have to say, as "meh" as I feel about "beauty pageants" in general, creating an opportunity for older women to get gorgeous and enjoy some attention is a good thing. They're not being exploited, for heaven's sake – no one had to dance around in a bikini and throw a stupid baton in a sequined unitard. I'm not there yet, but I'm guessing by 70, glamor is in short supply, and when paired with a microphone so you can share your experiences, it must feel validating in a world that generally ignores old people.
And let's face it, any chance to give our survivors an audience is vital because they won't be around much longer: There are an estimated 270,000 Holocaust survivors living in Israel, passing at the rate of more than 30 a day.
Though his event was lambasted as "macabre," "inappropriate" and "sicksicksick,"  Shabag says he'll likely plan another next year. "We should never forgive and forget what they went through, but I find this a very constructive way to show these people remain beautiful."
I agree. The fact that these women are alive and full of joy is to be celebrated.
Just as long as no one breaks out a baton.