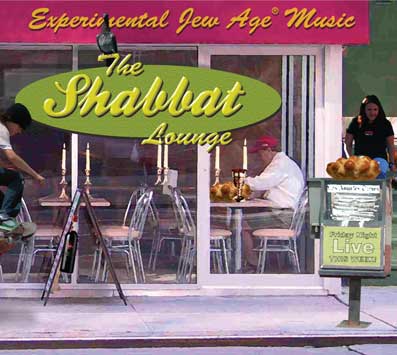 Because his ambient "Jew Age" jazz is just too good to listen to once a year, it's fabulous that modern Jewish music maestro Craig Taubman has turned his hip Hebrew loops to the holiday we celebrate every week.
"Shabbat Lounge" follows the model of Craignco's Jewish "chill out" gems "Hanukkah Lounge" and "Passover Lounge", both signature blends of ancient prayers and post-modern jazz. This latest installment of the Jew Age fills a room with tracks both mellow and grooving, greeting the Sabbath Bride like she's a diva decked out in Zac Posen and platform boots.
On the press release Craig spells out his intention to bring the hipster Jews home, if only figuratively:
I wanted to breathe new life into the songs and make them relevant for a generation that might spend Friday night in a club rather than a synagogue.
From the decidedly tribal beats of "Dror Yikra" and the downright funky "Chiri Bim" to the trance-y Eliyahu, it's a meditation to take you through Saturday evening. Maybe it'll take some time for the DJs at Crobar to start spinning "Shabbat Lounge," but when they do, you know Jewish hipsterism will surge anew.
While we're on the subject of Craig Taubman, I have to something to confess: Though I've been a fan for many years, I never had a clue what the man looked like. I assumed that since no photos are ever on the CD sleeves, he must be a mole-like nebbishy guy with transluscent skin, the result of spending so much time in his underground lair/sound studio. Um, hello? The dude's a silver hottie. Why has this not been brought to my attention before, CraignCo marketing people? You've got a major sex symbol on your hands — when will you stop keeping this a secret from the Jewish people?