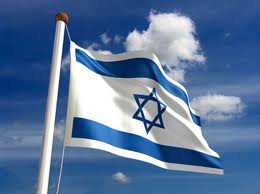 A friend messaged me last week: "Dying to know what you think about Israel!"
I knew I'd be called out sooner or later. I'm aware I haven't posted anything about Israel here or on Facebook, not even to share particular articles that have helped me gain a better understanding of what's been happening in this latest go round of insanity and violence.
(Now that we're here, however, this one is particularly enlightening.)
Mostly, I've stayed quiet because I don't feel like I have anything useful to add. There are many people with brains far bigger than mine weighing in on the IDF's excessive force, Hamas' misappropriation of humanitarian aid and dead children all over the place. Plus, I just don't have the stomach to go keyboard-to-keyboard in the comments section of obvious anti-Semitic and historically erroneous propaganda.
Let's face it: Nothing coming out of a computer in Savannah, GA is going to lift a blockade or neutralize rockets or talk sense into anybody halfway around the world. The world is better off with my hippie peace prayers, said and felt sincerely for every person, everywhere.
But if I'm being really honest, I haven't jumped into the increasingly hostile conversation because I don't want to lose any more friends. Back in California, I once almost ruined a four year-old's birthday party by arguing Israel vs. the Palestinians with one of my neighbors. Another time I also threw a plate of falafel back at some asshole in the middle of my neighborhood's community festival for selling to me with a note attached to the plate that said "Free Palestine from the Israeli Nazis."
These confrontations made me so angry I could barely speak. They also made me afraid. These were people who screamed in my face about burning rubble in Gaza and then condoned the vandalism of an American synagogue as understandable retribution. They were anti-Semitic but wouldn't admit it, condescendingly "explaining" that "I don't have anything against Jews, I just think Israel is evil."
Living in the South for the past eight years, I've gotten used to a more benign, even welcoming attitude towards Israel, which creeped me out at first and still makes me nervous since it often seems attached to an evangelical agenda.
Truth be told, I'm just not interested debating Israel's "right to exist" or its right to defend itself. Nor am I interested in doing a ring-around-the-rosie dance to usher in the End Times.
My thoughts on Israel? I am amazed at how a few kibbutzniks have turned a dusty sliver of land into a bustling, fruit-bearing economic nexus in a mere 65 years. I am astounded how Jewish people have created a democracy among hostile neighbors after being decimated in the Holocaust (actually, "decimated" is an understatement, since it literally means to annihilate a tenth of the population. The Six Million killed in WWII were a full third of the world's Jewish population.)
I am grateful for the advances in technology and medicine that come from Israel's laboratories (your cell phone? Invented in Tel Aviv.) I am humbled that even in times of war, Israeli doctors treat their enemies.
I'm also definitely not someone who thinks Israel can do no wrong. I think the right-wing settlers and their anti-Arab vehemence are an embarrassment. I think the situation in Gaza—and the West Bank, which will eventually play in—is complicated and convoluted and sad.
Still, when I see other Jewish people posting anti-Israeli sentiments and then read about the looting and intimidation of Jewish businesses and college students in Paris and Belgium and Boston, I want to ask, "Do you think they don't mean you?"
When I see the posts that portray the abject, undeniable suffering of the people of Gaza that fail to make mention of Hamas' use of Palestinian children to build tunnels so they can kill Israeli kindergartners, I want to cry out with the injustice.
When I see that a synagogue in Miami was covered in swastikas this morning, I have to put aside my fear of taking sides. That the world would respond so quickly with anti-Semitism only strengthens the reasoning and resolve of the Jewish state.
I stand with Israel, always and proudly. My heart goes out to all who are in pain. I've also had enough of the hateful one-sided posts that portray Israelis as brutal and Palestinians as victims. Yes, they are victims—of a fundamentalist terrorist regime that would sacrifice every one of them to destroy Israel and America. Anyone who has seen the tunnels and rockets can no longer deny that Hamas leaders are lying when they claim they want peace.
I like to think I've curated my friend list with intelligent, compassionate people, and I don't have to agree with them all the time. So far, I haven't defriended anyone for their sympathies. But I am going to start commenting and sharing some of the thoughtful, factual posts that present the truth about Israel.
If anyone feels the need to defriend me for that, I completely understand.