I've got 70 on the brain, for sure.
Over at the day job, I wrote about the 70th anniversary of Johnnie Ganem's, Savannah's oldest liquor store, which doesn't have a Jewish connection other than it's a story about a really strong, close family, and that certainly applies here.
I attended their incredible bash last night on the corner of Habersham and Gaston, one of those wonderfully tipsy and shvitzy (oy, it was outdoors) Savannah events where oldtimers and new guardians and wacky liberals and uptight conservatives come together to clink glasses in the name of community and business and good cheer. It was marvelously catered by five or six kitchens, including brisket experts New South Kosher—Chef Matt Cohen informed me that they now have Shabbos meals to go. (There you go, the Jewish connection. That was only like, two degrees of separation, right?)
I've also been obsessing about the 70s because of the local filming of the CBGB movie, set in early years of the New York punk scene, but you'll have to wait 'til next week for my nerd musings about that to come out.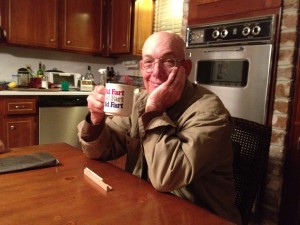 There have been a couple of milestone birthdays in Yentaland recently: My dear old dad turned the big Seven-O last month, an especially meaningful occasion since we didn't know if he'd be around for it after his near-death experience last fall. He's back to his old fart self, as you can see, and we're all meeting up for a family reunion in New York next week to celebrate (though I'm pretty sure my mom is not interested in a tour of the old punk clubs.) We're sure happy to have him around for a while longer, baruch hashem.
This past Wednesday, my mother-in-law also turned 70. I remember flying in from California for her 60th birthday party, a tony sit-down dinner at the Chatham Club, attended by loads of friends. Barely recovered from her breast cancer treatments, she had just been diagnosed with frontotemporal dementia, and she made jokes about her "memory situation" when we toasted her. We danced together and after a glass and half of wine, she was fuzzy around the edges, smiling and whispering to me several times, "I'm so glad y'all came."
A decade makes a world of difference in this disease. The last vestiges of her memory have disappeared, along with her ability to speak, feed herself or even get out of her wheelchair. As she was declining but still able, we had some fun together, eating at the senior lunch on Thursdays and waving our jazz hands to the oldies' station. Now, if I get down next to her and look in her eyes and sing "I love you love you love you," a quizzical look might pass over her face, as if my voice activates some forgotten neural pathway. I miss dancing with her the most.
Physically, she is still with us. She lifts her head when my son plays the her baby grand piano; sometimes, she cries. My brother-in-law can still make her giggle, but I haven't mastered that secret skill.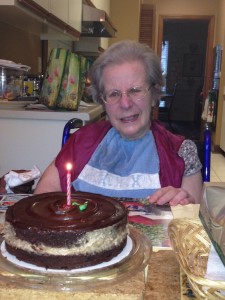 We brought her a cake and flowers from our backyarden for her birthday. With her caregiver's OK, she sucked down some watered-down white wine in her sippy cup. That might be why she's smiling.
When we sang "Happy Birthday," I winced when someone added "and many more…" How many more years will this lovely person have to live in a failing body without a functioning brain? A human being who makes it through seven decades is certainly worthy of celebration. But is long life always a blessing?
Not up to me to decide. All we can do, I guess, is keep toasting to life with all its heartbreaking injustices, grateful near misses and glorious joy: L'Chaim, L'Chaim, L'Chaim.
Good Shabbos and a blessed weekend to all.