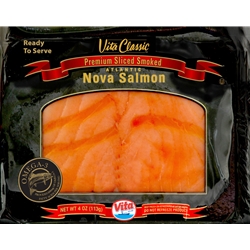 Well, here's every Jewish mother's worst nightmare:
The package of lox (or as I've heard it referred to, "smoked salmon") I bought at Publix last week for some nice bagel sandwiches to take to a beach picnic has been recalled for the presence of a certain vile bacteria.
According to an email from the Georgia Dept. of Agriculture received yesterday:
Vita Food Products, Inc. of Chicago, Ill., is notifying the public that it is recalling 1,878 pounds of Vita Classic Premium Sliced Smoked Atlantic Salmon due to possible contamination of Listeria monocytogenes, an organism which can cause serious and sometimes fatal infections in young children, frail or elderly people, and others with weakened immune systems.
The email did not mention the also common symptoms of stomach cramps and diarrhea. Gross.
The product was sent to Hannaford stores in New York, Massachusetts, Vermont, and New Hampshire, H-E-B stores in Texas, and Publix stores in Alabama, Florida, Georgia and South Carolina beginning on April 7, 2014.
Yep yep, Publix. In Savannah, Georgia. At Twelve Oaks Shopping Center, to be precise.
The packages are vacuum sealed, black in color and bear the Vita logo centered at the bottom. Product from this lot can be identified by a SELL BY AUG 17 2014 date and lot number 00764B, which can be found on the right side on the front of the package. The 4oz size of this product is the only size subject to this recall.
All of the above. Darn.
Well, that sucks.
A shame this alert went out the day AFTER Little Yenta Girl and I ate the sandwiches.
After an evening of a rumbly, unhappy tummy, I managed to, erm, expel the offending Listerical mononucleuses or whatever those little fuckers were.
My girl's digestive reaction was not quite as fast, yet she appears to be much better after a day of seltzer water and a double dose of probiotics to help her gut's good bacteria kick out the interlopers.
Vita is offering a refund for the contaminated yuck lox if I sent it the product label, but that would have required touching it and no, just no. Anyway, the minute I got the email alert and discovered it was a match, I made Yenta Boy take it from the fridge with a paper towel, wrap it in two plastic bags and throw in the outside trash can.
But now our favorite protein snack will be tainted in my mind. Maybe not forever, but there's something about diarrhea that turns a person off.
In the meantime, we're going to stick to hummus. Or maybe not. Dammit.