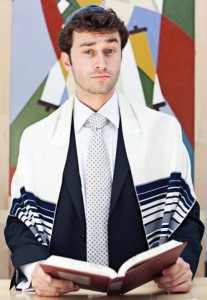 I'm know I'm way late to this party, but I recently discovered porn star James Deen. (Relax, that just links to his Wikipedia page.)
Roll your eyes all you want, but it was actually by accident: I do not judge anyone's preferences, but I don't really go in for the porn, mostly because I consider the computer an instrument of work-related drudgery and prefer my sex live and in person.
But a few months back his Deeniness popped up on my feminist feeds as the Ryan Gosling of Porn, and I had to research this new breed of professional penis whose staying power is only rivaled by his intense eye contact. I clicked around and found his hilarious Twitter feed and saw that he bears more than a passing resemblance to a certain El Yenta Man. Not only is Deen an authentically woman-positive cat lover, he's a mensch who loves his mother. (Who happens to be a rocket scientist. So ya know, genius genes.)
And then, OMG, the Heeb photo shoot. I don't know what it is about tallit I find so sexy, but sometimes it would be best if there was a mechitzah at our synagogue so I wasn't tempted to grab EYM's tush when he bows for the Amidah.
Plus, our boy is proud to be Jewish. He refers to being Jewish a lot. At the very least: He may be skilled at putting one of those freaky ball gags with one hand, but  dressing up as Santa crosses the damn line. (Um, that link is not so much NSFW.)
Anyway, I was all, yeah, I woulda hit that in the gaga pit after Havdalah back at Camp Alonim. What kind of hot-blooded Jewish mother would I be if I did not shep nachas that the most popular porn star in the world is one of the tribe? I was starting to think that maybe there was something to this Jewish porn thing.
Then someone sent me this photo, and it turns out the formula of Jewish porn star + article of ritual Judaica doesn't necessarily translate into dripping wet hotness: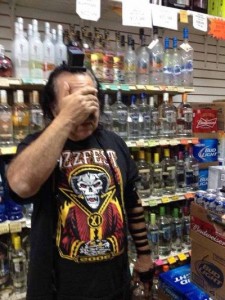 I give you Ron Jeremy reportedly saying the Sh'ma while wearing tefillin. In a liquor store.
I just don't even know who I am anymore.