In the last week, I have received numerous e-mails from BOTH of my parents expressing great concern that the Yenta family watch Simon Schama's Story of the Jews.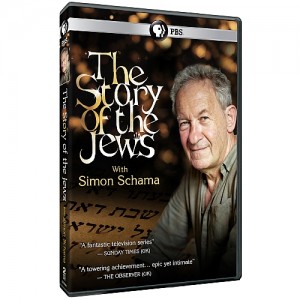 Parts one and two of the five-part miniseries premiere tomorrow Tuesday, March 25 on PBS (check your local affiliate) and apparently if I don't put our tushies on the couch for it, there will be hell to pay.
Well, not Hell, since Jews don't believe in all that. (Unless, of course, they want to.) But my folks only noodge when it's something fairly important, and I don't like to disappoint them.
"I know it's a weeknight, but maybe you'll let the children watch a few minutes…" writes my mother in a style the rest of the family refers to as her Power of Suggestion tone.
Dad goes for more a direct tactic, as in "Your dead grandparents would be very happy, if in fact there is an afterlife and they could know of such things."
Actually, I don't need any guilt trips at all to defer my Parks & Rec Netflix viewing for this epic documentary, although some people I'm related to (*cough cough*) might consider it the T.V.-viewing equivalent of a museum full of Torah pointers.
Lushly filmed at archaeological sites, medieval synagogues, Venetian ghettoes and Palestinian neighborhoods, it promises to present Jewish history in relate-able, relevant terms as well as in the context of modern culture itself.
"What ties us together is a story, the story kept in our heads and hearts," says Simon Schama in the preview. "We told our story to survive. We are our story."

It's a salient timing as we're readying ourselves and our homes for our Passover seders on Monday, April 14, when we will tell one of the most important parts of the Jewish story over five courses, four cups of wine, several songs in Hebrew AND Yiddish and still have to do the dishes. Maybe this will bring a little clarity to the table.
If you need more intellectual coercion, check out Adam Kirsch's lengthy but insightful review on Tablet.com. He makes the case just upon the visuals alone—even as he points out that as a religion without icons but plenty of tsuris, there aren't that many grand edifices to revere:
"There is no Jewish Notre Dame," Kirsch writes wryly.
He is also clear that the series does not "ignore" the Holocaust nor does it let it "dominate" this narrative, which may be a relief for those who are learning—with great respect—to define their Jewish identity as more than Hitler's victims. Our story—and whether you're Jew, Christian or Muslim, this is indeed your story, too—is bigger, bolder and more beautiful than that. Plus, it's nowhere near finished yet.
So, yes, Mom and Dad, we'll be parking it on the faux leather sofa tomorrow night under the Harry Potter throw blanket. As a matter of fact, I'm pretty excited about it.
And not just because it makes me feel less guilty about abbreviating the seder.