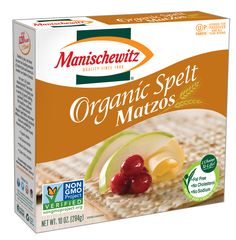 On all other nights, most Reform Jews eat whatever the hell they want.
But on Passover, we abstain from fluffy breadish products and suffer with matzo not only to honor our ancestors, but perhaps to lend a bit of consciousness to our consuming to the rest of the year.
While the Yenta family does not keep strictly kosher (El Yenta Man has to cook his shrimp on the grill), we do try to keep our food as local and non-Monsanto-stained as possible, so I'm very excited at that this news:
Massive mazto maker Manischewitz has announced a whole line of non-GMO Project Verified foods for our Passover tables this spring. The list includes pretty much everything but the gefilte fish:
Matzos
Matzos Thin Tea
Matzo Meals
Matzo Farfel
Matzo Cake Meal
Organic Matzo
Organic Spelt Matzo
Whole Grain Matzo Farfel
Whole Grain Matzo Meal
Whole Wheat Matzos
Unsalted Matzo
If you're not familiar with the debate over genetically-modified ingredients–aka GMOs–have a look here.
It seems to me that ALL food that is genetically modified–and we're not talking about old-fashioned cross-breeding–ought to be considered unkosher for its insidious dicking with God's perfect genome, but hey, I'm no rabbi.
But I do know that come April El Yenta Man is going to soooo happy about his non-GMO organic spelt mazto brie!