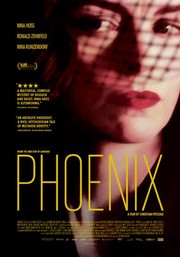 For the most part, any movie about the Holocaust or its aftermath is a trigger for me.
I tend to shy away from them, not because I don't think they're important and that I want quash history, but because I usually end up hysterical for days, even if the ending is spun hopefully.
Though they are beautiful and finely wrought, films like The Pianist and The Boy in the Striped Pajamas tend to send me down the bad feeling hole, worry and guilt and panic bubbling under my skin.
I promise, I'm never gonna forget. I couldn't even if I wanted to.
My cinema-induced anxiety might be a scientific fact: For her next book, my mother, author Marcia Fine, has been researching epigenics, the study of how trauma can affect DNA. Demonstrating how horrorific events can affect future generations, Scientific American recently published a piece about altered stress hormone levels among descendants of Holocaust survivors.
So, suffice it say, the Holocaust doesn't usually make it to my Netflix list. I don't get a lot of time to watch movies at all, and when I do, I prefer to be entertained, not distressed.
But a respected friend recommended the German film Phoenix to El Yenta Man, and he insisted we go. I couldn't remember the last time EYM invited me out for a movie, let alone one with subtitles, so I had to. Also, he promised I could have a whole XL box of Junior Mints to myself.
I knew my fragile countenance would be protected from the very first scene. A car pulls up to a Swiss checkpoint right after the war bearing two women. The head of the passenger is entirely wrapped, save a pair of haunting eyes. The driver tells the English-speaking soldier, "She was in the camps."
The soldier demands that she unroll her bandages, but instead of being subjected to the usual American-style gore, we see only his reaction to her wounds.
What follows is a masterful psychological thriller in the vein of Hitchcock, each scene measured with a balance of exposition and suspense. We learn that the patient, Nelly (played with such harrowing delicacy by Nina Hoss,) is a Jewish chanteuse who has narrowly escaped death at the hands of the Nazis, but her entire family is gone. Her friend Lene (Woman in Gold's Nina Kunzendorf; no I haven't seen it) helps Nelly recover from facial reconstruction surgery, though she does not quite look like her past self. Lene tries to sell her on a move to Haifa or Tel Aviv with her inheritance, but Nelly's greatest urge is find her husband, Johnny.
It's clear that she cannot accept her new self until Johnny validates her. Thing is, Johnny may or may not have been the one who betrayed Nelly in the first place. She finds him, but instead of recognizing her, he sees her as a good enough substitution to claim her family's money. He's obviously a cad, but the nuanced performance by Ronald Zuerfeld keeps us guessing until almost the very end.
Writer/director Christian Petzold doubles down on the mystery, disguise and deception, but ultimately, this film is about a woman's reclamation of her identity in love and life. And because I really like happy endings, I felt tremendous joy in this film's last rising moments.
Hope you'll enjoy its limited run in theaters over the next few weeks, and perhaps it will make it to the Jewish Film Festival circuit. And don't be afraid to add it to your Netflix list, even if your heart is as faint as mine.