This poor shlub is surely enjoying some unwanted fame this week after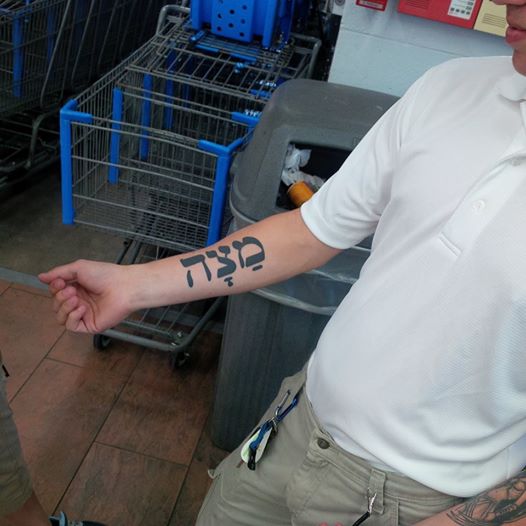 rabbinical student Sruli Schochet posted this photo on Instagram:
"So we were at the Walmart in Bentonville, AR, buying some food and we see this guy with a massive arm tattoo. Shmueli Newman asks him if he knows what it means. 'Yes,' he proudly says, 'it means 'strength' just like my name. I got it while I was in the military.'
We didn't have the heart to tell him…"
Listen, I can barely follow the V'ahavta without transliteration, but even I know that guy's arm says "matzah." But only because of the vowels.
As Schochet noted in the comments on his post: "Let's just say, there is a white guy in Arkansas walking around with the Hebrew word for 'cracker' on his arm…and he doesn't know it!"
Listen, I'd be hardy-har-har-ing along with the rest of y'all, if only I hadn't made my own egregious grammatical mistake this week: In this week's Connect Savannah profile of Best Clergy of 2015, I somehow managed to spell my own rabbi's name wrong–IN ENGLISH. 
It's been fixed online, but print is well, printed. But let's talk about the irony of a Jewish person elected as the favorite person of the cloth in a city steeped in Christianity:
SAVANNAH'S Jewish community may be America's third oldest and one of its most storied, but it remains a fact that synagogue dwellers will always be a tiny minority in this city. Yet out of all the pastors, reverends, ministers and priests preaching the Good Word out there, y'all somehow elected a rabbi as the favorite clergy of 2015. Perhaps it's a testament to Savannah's accepting climate, or maybe you're all secret gefilte fish fans.
Read the rest here, and congrats to all the 2015 Best of Savannah winners!