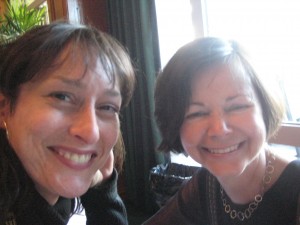 I'm a complete nerd when it comes to books, and my collection of signed copies is one of my most treasured possessions. If there was a hurricane on the way and I had to evacuate, Ken Kesey's Sailor Song and Marge Piercy's The Art of Blessing the Day would be in the same shopping bag as my wedding album.
That shopping bag just got heavier as of yesterday:

Geraldine Brooks, author of my hands-down favorite of 2008, People of the Book, was the featured speaker at USCB's Lunch with Author series. If your book club hasn't featured her yet, she's a genius at spinning fascinating fiction out of existing materials: Year of Wonders is based on life during the Black Plague, and March, the story of the absent father in Louisa May Alcott's Little Women won the Pulitzer Prize.
I was extremely late to the luncheon so I didn't actually get to break bread with Ms. Brooks, but I did find some standing room for her completely charming talk about her writing process, her past career as a war correspondent for The Wall Street Journal and interviewing Michelle Obama (read the piece at More.com.) She also alluded to her current project, Caleb's Crossing, which delves into the Native American history of Martha's Vineyard, and shared the news that Catherine Zeta-Jones has just bought the film rights to People of the Book.
Being last one in the door meant I was first in line to get my book signed, and Geraldine was patient and gracious with my request to snap a picture. But if I'm going to go bonkers over starting a collection of photos with famous authors, I guess I'd better plan to add my back-up hard drive to my evacuation shopping bag.
*To save the Yenta some precious time, the above is cross-posted at savannah.skirt.com. But there's more:
So you probably know by now that I can't go anywhere without announcing my Jewishness loudly and proudly. Because People of the Book deals in Jewish themes and history, I just had to mention to Geraldine Brooks that I write a Jewish blog and that as a Jewish person I was so impressed with the breadth of her historical research and her compassionate treatment of the materials and for a non-Jewish person, she really knows so much…
During all this sycophantic blathering her eyes were sparkling, amused. When my mouth finally sputtered to a stop, she laughed and exclaimed in her tinkling Aussie accent, "But darling, I AM Jewish!"
Boy, did I feel like schmuck. Why I assumed while I reading the book that she wasn't Jewish, I'm not really sure, but since I didn't question my own feeble thinking I didn't bother to Google the subject and this Houston Chronicle interview about her teenage obsession with Judaism, her subsequent conversion and marriage to journalist Tony Horwitz.
Color me apologetic, Ms. Brooks.