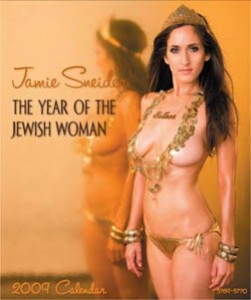 Have y'all seen comedienne Jamie Sneider's "Year of the Jewish Woman" calendar? Sure it looks like porn, but it's got all the religious holidays and everything!
I'm sure someone will be outraged that I'm not outraged, but it seems to me combining the naked with the sacred seems like a fantastic idea, especially when you add cookies. Check out the entire gallery of Jamie's artfully-hidden boobies here.
I know you're ALL clamoring for a naked Yenta calendar, but sorry friends, there is not an airbrush artful enough to erase these vericose veins. But hey – I just had an idea – wouldn't everyone like to see a racy spread exploiting the muscles of El Yenta Man?!