Oy vey, is it that time already? Chanukah starts in in less than a month!
Ach, shopping for your favorite Jew out in that scary Wal-Mart world could give you hives (I accidentally wrote "hooves" first, which would be really terrible also, not to mention treyf as hell.) So lucky for you, I've compiled a few things for under $15 that can be bought from the comfort of the chair you have your tushy in right now:
First off, we have hot hot hot Chanukah socks by Sockgrams in three different holiday styles (we appreciate the variety, Sockgram people!) If all of us starting wearing these, I think they could be an effective antidote for those horrible flashing Santa brooches that start showing up on middle-aged women about now.
Every pair comes adorably wrapped with a card and foot balm or stickers for the munchkins, and at $11.95 it's a PERFECT gift for grandparents, or say, your Shalom School teacher. Free shipping in the U.S.! Choose yours at Sockgrams.com.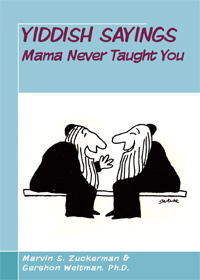 Next up, the perfect thing for the dirty mind in your life: Yiddish Sayings Mama Never Taught You, by Marvin Zuckerman and Gershon Weltman. This compilation of smut from the shtetl was rereleased this year, offering up Old Country zingers like Der pelts unter dem vaybershn boykh iz dos tayerste futerl ("The pelt under a woman's belly is the world's most expensive furpiece") and An eygener forts shtinkt nit azoy vi a fremder ("Your own farts don't stink like someone else's").
Look, it's no news that Yiddish is a dying language. Learning how to creatively insult others in it is probably the most effective way to revive interest in it for anyone under 30, and $11.95 plus shipping makes it easy to ensure the survival of the mamaloshen for future generations — perhaps some philanthropist might consider buying bulk donations for every Hillel in the country?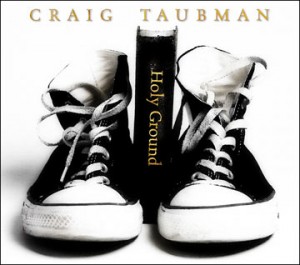 And finally, for the Jew in your life looking for spiritual nourishment as well as a beat they can dance to: The Yenta's favorite silver fox, Craig Taubman, has a new album out this fall, Holy Ground. Isn't the cover art great? CT's all about making the liturgy accessible and joyful, something us Jewish outlaws in our sneakers deeply appreciate.
A follow-up to his rockin' religious hit, Friday Night Live, Holy Ground breathes new life into Shabbat prayers, with a Latin-flavored "V'Shamru" and a saxaphone-soaked "Aleynu." Isn't 15 bucks is a small price to pay to see the family doing and conga line to "L'Cha Dodi"? Shabbos at the Yenta house just got a whole lot more raucous.
Speaking of family, Craig Taubman's production company, Craig n Co., also just released My Very First Jewish Celebrate Vol. 1, a fun collection of Jewishy tunes for the littles. If you thought the "David Melech Yisrael" hand jive was fun, wait 'til you try it with country-western handclaps.
There you are — the Yenta's favorite Jewishy gifts for the body, mind and soul!