I've been digging through Cafepress and other interwebby places searching for decent Jewy t-shirts for over six years now, and I promise you, I've seen 'em all. but for you dahlinks, I post only the best.
Most of them are painfully silly (if I come across "Don't Worry, Be Jewish" one more time I'ma gonna gag) and occasionally downright offensive, but once in a great while I find a jewel of a Jewish schmata that gives me a good chuckle, even stirring an urge to point and click myself to PayPal to purchase it.
Today is our lucky day, friends.
It's kind of misnomer to call it a "T-Shirt of the Week" since this logo is more apropos for a trucker hat and it might well be three months before I find another worthy candidate for the category: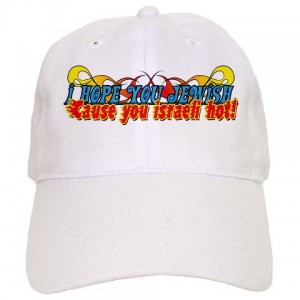 Just in case you can't read that, it says: "I hope you Jewish, 'cause you Israeli hot!"
Heheheheh. Cheaply punny, yet you laughed, didn't you?
Get it from JTshirt.com.
Also, posting will be slow for the next lil' bit for reasons I cannot relay at this time but promise to fill you in on later.