Let's face it, ladies — we don't get a whole lot of face time in the Torah. And it hasn't gotten that much better from there, though musing over Jewish feminism lately has me inspired — watch for an upcoming Passover post on Miriam and her rockin' tambourine. And hey – did you know that March is Women's History Month?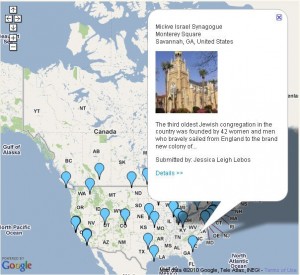 The smart cookies at Jewish Women's Archive have writing women back into the story since 1995, and this month they launched a most awesome way to mark the accomplishments Jewish women have made along the way. And guess what? They want US to help!
They're calling it "crowdsourcing" — you and I finally have the power to contribute the stories WE value, which is pretty amazing opportunity. When's the last time someone asked you to write history instead of just agreeing with their version? Let's reclaim our mothers and grandmothers and the immigrant great aunts from the void! By marking the places where they lived and worked, others can visit and honor their lives.
There is no existing record or database of Jewish women's history landmarks in America; On the Map will create this record. A user-generated map hosted on jwa.org, On the Map will showcase significant places in Jewish women's history, including sites both marked and unmarked, familiar and obscure. Users can put their own stamp on history by clicking on a location and adding a photo and their description of the new landmark.
Sure, Emma Lazarus' Statue of Liberty poem is already there, as is Barbra Streisand's star on the Hollywood Walk of Fame, but only we can fill in the gaps. I added Temple Mickve Israel this morning – but people, that can't be the only Jewish women's history in Georgia! Where my ATL peeps at? Add something today to JWA's On the Map project!