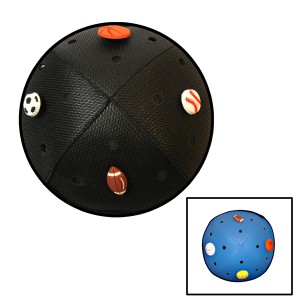 Y'all already know how I feel about Crocs. And there are plenty more like me, in spite of their hideous ubiquity. In fact, the I Hate Crocs blog is my new favorite home.
But now the Croc lovers have gone and made it personal. This is the "Kroc Kippah," which someone at PopJudaica.com thinks is amusing enough to sell. Maybe you think it's amusing enough to buy. But if you're wearing it and sitting in front of me at synagogue, so help me I WILL snatch it off your head and fling it like a cold latke from hell onto the bima.
Consider yourself warned.
Tip thanks to Meredith at ModernJewishMom with my sincerest apologies, because she likes it.