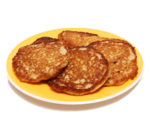 I saw these flash-frozen latkes advertised in a pop-up ad yesterday and my feelings are, *ahem*, mixed:
On one blistered hand, it sounds like a fantastic idea to save the greasy mess and let the nice mensches at SchmaltzOnline.com do the shredding and the frying. (It's also an expensive one: $17 for a dozen potato pancakes with the toppings PLUS $22 for FedEx shipping, though you are worth it.)
On the other, think of the generations of Jewish mothers who have grated off half their fingers for the screaming Chanukah masses. They would tell you latkes aren't kosher unless there is a little blood in those potatoes!
I suppose if you don't want to get dirty at all (and don't care about diminishing all the work of the bubbies of yore, you ungrateful shmo), these look like a tasty option.
That said, I'm Streit's mix girl, myself. But I promise I suffer a lot of pin-sized burns all over my entire body from the sizzling spatter. (I don't know how it gets inside the apron but it does.)
So I do love a nice shortcut, especially when combined with Jewish kitsch.
Speaking of yiddishe hilarity, who wants a Jewish toaster for Chanukah?