Please forgive the unforgivable pun, but it sure is refreshing to see the interwebs blowing up with something positive coming out of Israel.
All over every gadget site this week and joining the ever growing list of examples of Israeli ingenuity—which includes cell phones, portable flash drives and the camera on the end of the hose they shove up you for a colonoscopy—is the Leatherdos, a multi-functional tool masquerading as a barrette.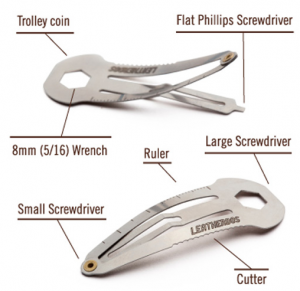 Tel Aviv industrial design student (and obvious future Mossad recruit) Yaakov Goldberg came up with the Most Amazing Yarmulke Clip in History for his yeshiva buddies, and now every observant man in the world will be unclipping his kippah to measure the unkosher space between the slats in your terribly-built sukkah.
It's good to know I can snatch this off someone's head in synagogue next time a screw falls out of my sunglasses.
Of course, it still wouldn't be kosher to use on Shabbat, unless it was an emergency, like if you found yourself locked on a moving trolley (wtf is a trolley coin, anyway?) and needed a chihuahua-tooth saw and tiny wrench to detonate a bomb. (Dammit! I'm sorry. There's really no escaping the explosively tasteless humor around here.)
Anyway, Presbyterian divestment be damned, young Yaakov has a bestseller on his hands head—the $10 clip is already on back order.
Guessing it won't be long before it's standard IDF in rucksacks and on next year's camp list.
And the countdown until one of these in confiscated by a TSA agent starts now…