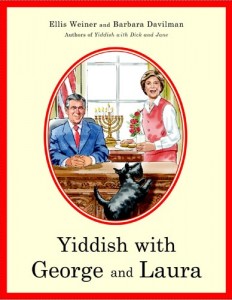 George W. and Laura Bush, in their desire to show Jewish leaders around the United States how much they tolerate their heretical sinfulness, are throwing their last Chanukah bash at the White House.
Invitations were sent out last week to all the important Jewish politicos, and strangely, the RSVPs were slow coming in. Hmm, I wonder why…
Could it be because the cards show a horse-drawn cart bearing a sign "White House Christmas Tree 2008" and pulling a Christmas tree to the White House, which is decorated with a holiday wreath?
Spokesperson Sally Sally McDonough chalked it up to a "staff mistake" and expressed hostess Laura's apologies, who was either so mortified by the error or preoccupied with hanging glittery balls in the guest bathrooms that she couldn't find the wherewithal to issue her own mea culpa.
McDonough said the intended Hanukkah invitations, which bear the image of a menorah given to the White House during the Harry Truman administration, would be sent out Thursday.
One more reason the Bush administration will go down as having the most retarded diplomacy skills in the history of Western civilzation.
And though the end of this circus is nigh, we mustn't exhale just yet: According to BackwardsBush.com, as of this writing he's still got 53 days, 2 hours, 10 minutes and 13 seconds to f*ck something else up.
*"Yiddish With George and Laura" available here.