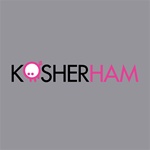 Hailing from Chicago, the menschs behind KosherHam.com are the new kids on the Jewish T-shirt block and they're gettin' love from all over.
With clever offerings like the chanukiah-adorned "Gettin' Lit," for-everyone must-haves like "Barak'n The Free World" and of course, their own oxymoronic logo (the little piggie is cute, nu?), what's not to adore?
But the Yenta's calling copyJew on the "One Fish, Two Fish, Gefilte" design – it appeared as T-Shirt of the Week way back in 2005 – likely before these e-capitalists were even bar mitzvahed.