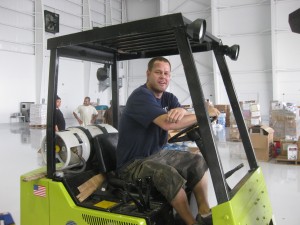 Well, there has certainly been a big turn of events in PrimeTime Amusements' efforts to get vital supplies to the citizens of Haiti since Friday's post:
After PTA President David Goldfarb filled up his trucks on South Beach all weekend with your generous donations, he was recruited to accompany said goods to the beleaguered island yesterday. Dave himself arranged everything on palettes to ready it for delivery, and his experience driving forklifts to move his giant 700-lb. arcade games was a huge asset when packing the 40-foot container full of thousands of pounds of water, medical supplies and non-perishable food. He's been put in charge of logistics for this mission, which means he'll be distributing the supplies after making contact with the University of Miami medical team.
One thing that you should know about Dave is that not only is he a savvy businessman with a heart of gold, he's a trained UFC fighter with monstrous muscles. OK, maybe he's not a professional kickboxer spilling blood on TV on Saturday nights, but really, even if someone likes to fight in a ring with no shoes and no rules as a hobby, that automatically of makes them a huge bada**, don't you think? I once went to a club with Dave and he made the bouncer cry. When Chuck Norris needs a pep talk, he begs Dave to roundkick him in the head to set him straight. I'm telling you this because no one, no one, is gonna be looting these supplies when this mensch while the iron fists is guarding them.
This just in: My man in Miami, my Columbian source for all news related to these relief efforts, has just informed me of more incredible news for the people of Haiti. Another sweeping organizational force, that weapon of mass construction, My Brother the Doctor, will be flying out on Saturday to Haiti to join Dave in triage work and other logistical endeavors. Everybody better put down the machetes and stand in line, nice and orderly-like — if they know what's good for them.
Stay tuned to Yo, Yenta! in the few days for the latest in PTA Haiti Relief news…