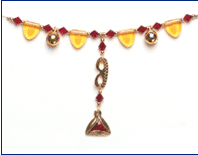 Purim is almost here, and I am bangin' my grogger (in a good way!) for Susan Fischer Weis' Yontifications – not even Queen Esther could have been bejeweled better.
Get the whole megillah and buy the matching earrings! And check out the bling for every other Jewish holiday – the little matzahs for Passover are so freakin' cute and won't go stale on you halfway through.
By the way, the title of this post doesn't mean I'm making vagina-shaped cookies from scratch, yo. Yeah, that's right: They tell us in Hebrew school it was all about the bad guy's hat, but the Jewish feminists say different.
Don't worry, Shalom School parents: I'll keep the myth alive for the kindergartners – and head to Kroger for some delish NY-baked goods before the shelves are empty.