Oh, you know, just one more end-of-the-year list to add to the bloggysphere. While Yentaland did not involve any freed Israeli soldiers or major disasters, there were a few milestones worth noting.
Here are the top stories of 2011 in my own head:
1. I Got A Job
After almost two years of bouncing around Savannah's job market like a loud, Jewish, lopsided basketball, I lobbed into a position at Connect, the alternative news and arts weekly. As Community Editor and writer of The (Civil) Society Column, I have managed to endear and repel many readers already and look forward to a raucous 2012 of championing Savannah's underdogs and pissing people off.
2. Dad's Aneurysm
Oy, did Dr. Skip give us a scare at the end of August. When I wrote this next to his hospital bed, I thought we'd be lucky just have him pottering around the house again. Who knew he'd be driving, teaching and kvetching five months later like nothing ever happened?
3. I Turned 40
Yup, I'm officially an alterkocker. On Kol Nidre. I still want to party like I'm 20, but my hip feels 80.
4. Strong Gym Opens
El Yenta Man launched his own business this year on Bull Street, offering personal training, rehab and group fitness services, and I've barely seen him since! He's glad to be his own boss and serving his clients in a clean, well-lighted space. His motto is "Life Takes Strength"—I also like to remind him that it also takes laundry.

5. I Am Going To Have A Sister-in-Law
Bro da Doc finally popped the question to his longtime lady friend this summer. In Paris. Under the Eiffel Tower. What can I say, when he goes, he goes big! He almost gave my mother an ulcer waiting to find a partner until his late 30s. The Yenta Family is so thrilled to have this lovely lady as part of the mishpocha.
6. Won Best Blogger…Again!
Thanks so much, y'all for voting me as Connect's Blogger of the Year for the second time! This was way before I worked there, btw. Would you do me the honor of helping me make it a trifecta come spring?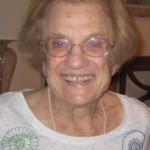 7. GG Crossed the Veil
El Yenta Man's grandmother, Florence Lebos, known as "GG" to her nine great-grandchildren exhaled her last breath in the presence of her entire family. She was 98. May we all live as long and lucky.
8. Debbie Friedman and Amy Winehouse Sing With the Angels
These passing of these two muses held a personal grief for me. I only met Debbie once, but like her music, the warmth of her hand as she squeezed mine in greeting had a lasting effect on my soul; she was modern Judaism's greatest liturgical influence. And, poor Amy. A voice like a celestial goddess, the habits of a teenage crack mom. May she rest in peace.
9. The Bell Tolled For No One
I checked an item of my bucket list this year when I climbed to the top of the (off-limits) bell tower in my synagogue. I found out that I am made of stronger stuff than I thought, and also that there's no actual bell up there.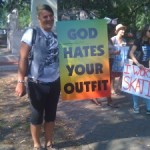 10. Yenta Faces Off With Westboro Baptist Church
It got real, yo, when the WBC brought it's hate-filled tour to Savannah—those people are so freakin' crazy they don't know what end is up! It was an honor to stand on the square with all the other Jews, queers and freaks as we drowned them out singing about love.

11. The End of Thursdays With Marcia
I spent almost every single Thursday lunch kibbitzing at the Senior Lunch at the JEA for five years. EYM and I would escort my mother-in-law when she was merely confused; eventually, we had to push her in her wheelchair and feed her. Finally, this spring, we decided it was best to keep her at home. She's still with us, giving out a smile once in a while.
It's been a blessing to look over those posts as we prepare for the last Shabbat of the year and our little shayna maidela's eighth birthday. Here's to a adventurous, prosperous, healthy and lovely 2012 to all!