Last night the Yenta crew went Whole Megillah for our favorite holiday!
Purim commemorates Queen Esther's badass rescue of the Jewish people from the conniving Haman, and somehow that's become a fabulous excuse to dress up and drink.
I didn't break out the turban this year and El Yenta Man didn't come in drag, but hilarity still ruled as we groggered and grogged the night away.
I mean, when your rabbi pays homage to the late, great Leonard Nimoy while dressed as Gonzo from the Muppets, that is a party.
Unfortunately, the kids didn't think so. Yenta Son barely met the family costume requirement by ruining my eyebrow pencil.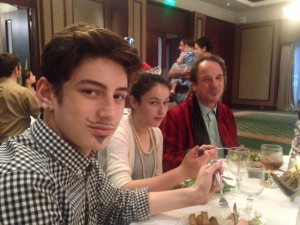 The addition of blanched green beans, however, greatly enhanced his look.
Little Yenta Princess kept it classy, as always: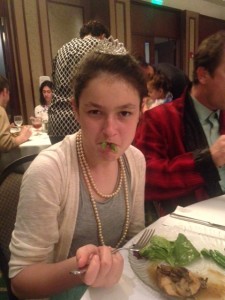 Some people think Purim is a children's holiday, but that's ridiculous. We'll be dressing up long after the kids are grown, and I hope we look as good as the Hofsteins:
We missed the kid version of the Purim shpiel Sunday, so I was soooo glad Miss Piggy and Kermit reprised their roles:
El Yenta Man wishes I would bring the pink flask every time we go to synagogue. Yenta Princess does not approve.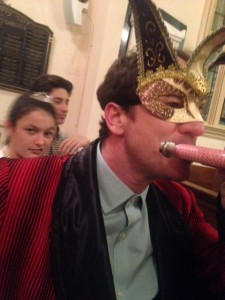 As he read from Mickve Israel's 600+ year old Megillah — the oldest in the Western Hemisphere — Rabbi Gonzo reiterated that a warped sense of humor has been the key to Jewish survival for 6000 years. It sure isn't because we blend.
Purim sameach and boundless silliness to all y'all!