Oh, it's my favorite holiday, the Feast of Esther, the time when it's marginally OK to pass a flask at synagogue.
Of course, I did not that share information with the Shalom Schoolers last Sunday, but I did invent a new Purim game totally on the fly: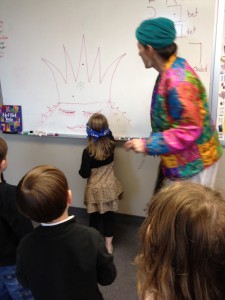 Better than Pin the Tail on the Donkey because it doesn't involve a mule's tuchus, "Put the Jewel in Esther's Crown" only needs a blindfold, a marker and some sparkly stickers. Closest one to the center of the Star gets a prize. Actually, because I'm that kind of teacher, all the kids got prizes. But only after they answered a Judaica trivia question first. You can totally steal the idea for next year.
You can't get a full view because I had to choose a photo that didn't show any punim (it is not kosher to post pics of people's kids without asking,) but I felt my costume was rather inspired. Do you not love the turban? It the one my mother-in-law wore when she was recovering from breast cancer, before the dementia. (Yes, she is still with us, in body and spirit if not mind, thanks for asking.)
The wild satin jacket is courtesy of my Bubba Reggie, of blessed memory. The handmade bloomers have traveled with me ever since I left Tucscon in my VW bus almost 20 years ago.
Of course, for last night's mini-Megillah fest I went as my usual Haman. The ever-good sported El Yenta Man did his Queen Vashti drag routine, in spite of not having the proper-sized balloon bosom. Why do not more adults dress up for this holiday? It's FUN.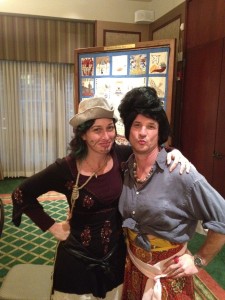 Yes, that is a noose and a Snooki wig and that is how we roll.
Speaking of Puriming it up like a pimp, I brought along a bit of my homemade honey pear liqueur to nip on before the service. I noticed a hip-looking, white-haired lady at our table that I'd never met before, so I offered her a shot. Call it Southern Jewish hospitality, yo.
Turns out she's a writer from New York doing a story about Savannah (and our 100th anniversary of the Girl Scouts celebrations—check my Jewishy G.S. piece in this week's Connect) for a travel syndicate.
Knocking back my homemade hooch, she introduced herself as Amy F. J. Stone. We started playing Jewish geography, and she humbly revealed that she is the founding editor of a little Jewish feminist magazine called Lilith.
This may mean very little to most of you, but to us Jewish feminists, it's a rather big deal. In continuous publication since 1976, Lilith magazine "charts Jewish women's lives with exuberance, rigor, affection, subversion and style" with brain-challenging social criticism, thoughtful reviews and awesome articles about how hamantaschen are just upside-down vaginas. Though I've only perused a couple of copies a year (it's a quarterly) online or at friends' houses, I just bought a subscription.
Ms. Stone herself has her own entry in the Jewish Woman's Archive, which makes her a real macher in my book. I had the honor of showing her around town this afternoon and we had great fun (even though I left the flask at home.) Be on the lookout for fabulous travel article about Savannah in your Sunday paper in the next few months…
So Purim Sameach and all that. Next year, if I promise to bring enough pear liqueur for everybody, will you all promise to come in costume?