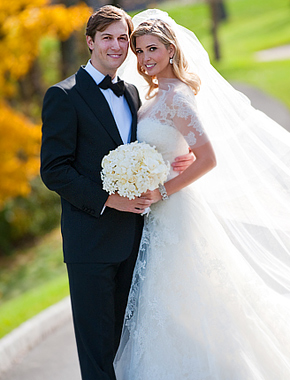 I'm not one to get all goobely over celebrity weddings, but I must admit I gave a twittery little sigh when I saw Ivanka Trump's lovely dress.
The supermodel-socialite-badass businesswoman-newly minted Member of the Tribe married New York Observer owner-every Jewish mother's dream Jared Kushner last weekend in a "lavish but tasteful" Orthodox ceremony, and according to Barbara Walters, Ivanka's dad The Donald kept it low-key.
Naturally, halachic decorum dictates modesty for a bride, and designer Vera Wang "seized on the chance" to create a gown for a celebrity that wasn't a white satin bikini with a train, i.e. something with sleeves. Does this mean we'll see Carmen Electra with a high collar and lace to her wrists at her next wedding? Vera Wang adores the idea of starting a modesty trend: "Nothing would make me happier. I've been doing strapless dresses for 15 years. It's tiring."
Both bride and designer were inspired by the gown Grace Kelly wore when she married Prince Rainier of Monaco. Princess Grace's demure style inspired my mother's generation to wear white gloves and keep their stockings straight, and Ivanka's influence just might set the bar a little higher for wedding day beauty.
You never thought you'd hear it from the Yenta, but I think the new Mrs. Kushner actually gives the term "Jewish Princess" a classy connotation.