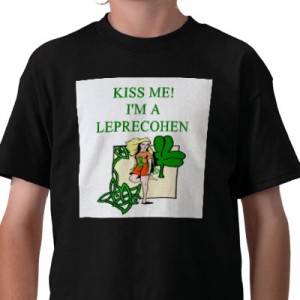 In New York, everyone is Jewish.
In Savannah, everyone is Irish. For the next few days, anyway. Whether you want to be or not.
The city's already a-buzz with tipsy tourists ogling the green fountain and good-naturedly peeing on trees, here to see just how exactly a small Southern city manages to host the second-largest St. Patrick's Day celebration in the nation. (Hint: Lotsa Porta-Potties. Or is it "Port O'Potties"? Either way, use them, 'cause you'll get arrested for peeing on the trees.)
The parade is truly a spectacle to behold, with men in green jackets and legions of bagpipes and endless marching bands and more than one shamrock bikini. Somehow I've managed to wrangle my way into the procession this year as a chaperone for the Irish Dancers of Savannah, but so sorry to disappoint: I will not be performing my interpretation of the slip jig.
I mistakenly thought the Jewish-Irish connection began with my own little lady of the dance, but it turns out Ireland's Jewish community has a brilliant history and is alive and clogging. Here's a link to Valerie Lapin Ganley's 2003 documentary Shalom, Ireland about Dublin's small-but-storied (and arguably, shikkered) Jewish community — yo, Savannah Jewish Film Festival Board: Bet you'll attract quite an audience if you screen this next year!
Turns out, we've been collaborating for centuries: For a recap on the "cross-cultural pollination" of Broadway's best songs, read Sarah Litvin's "St. Patrick's Day With the Irish and the Jews" in the Forward.
And finally, one last bit o' blarney before I go grab a Guinness and a bagel, I give you a Jewish limerick, courtesy of Irish Jewish poet Arthur:
There was a young Jewish lady named Carrie
who told her folks she was ready to marry
Her dad said, "Cor Blimey! —
"I hope it's a Hymie
And not a Tom, Dick or Harry!"
Enjoy the alcholiday safely, y'all. T-Shirt available from Zazzle.com.