And it just so happens that the Sisterhood blog reported this morning that there's one looking for a job.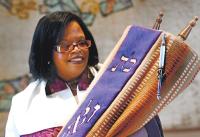 Alysa Stanton, who became ordained as the first African-American female rabbi in 2009 and has served at Congregation Bayt Shalom in Greenville, N.C. since, will not be renewing her contract after it expires at the end of July.
Rabbi Stanton said the challenges that she faced at the Bayt Shalom weren't all that different from those of any other first-year rabbi, but hers 'were more visible because the world was watching.'
As far as I know, there's a certain congregation in Savannah, GA that will have an opening for a new rabbi come this summer. I've lived here long enough to not get any hopes up for big changes that would upset the delicate constitution of aw-wah Suh-thern Classic Re-fohm trah-ditions, but I'd sure love to see her throw her yarmulke in the ring.