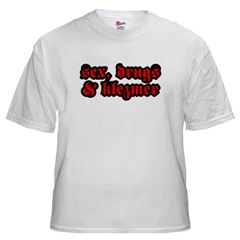 I mean firecrackers, man. We're clean here. Except for the occasional Benadryl.
As for the sex part, well, I'll you what I told Yenta Boy when he busted in our bedroom last Shabbos morning and told us we were being "inappropriate" (for real, his word): "First off, the door was CLOSED. Second, your father and I are MARRIED and that means NOTHING consensual can ever be inappropriate. Now give me back the handcuffs."
This is also homage to dear Yenta friend Leon Bristow who sits in with the fabulous New Orleans Klezmer Allstars… missin' ya, Elwood!
*From Ohiso.com.