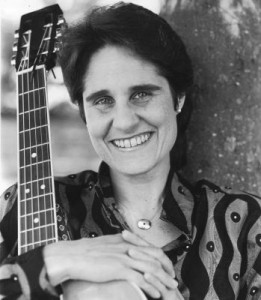 Jewish muse Debbie Friedman has left the planet.
Armed with a guitar, a cheerful love of God and a deep belief in the power of the people, she changed what it means to worship Jewishly. She offered a genuine interpretation of traditional prayer that inspired joy, community and a sense of the sacred. She brought the women of the Torah to our consciousness and brought the voice of everyday women to the bima.
When so many facets of modern Jewish life are rife with contention, she gently admonished us that not by might, not by power, but by spirit alone shall we all live in peace.
Her music had a much more profound impact on many of us than any rabbi. It's a happy irony that this "rebel" ended up becoming an "official" cantorial teacher for the Reform synagogue movement in 2007. She leaves behind a body of work that will continue to enrich the spirit of people around the world, and us Jews who want ruach in our prayers will continue to sing her songs in shul, at camp, at religious school and at home for many generations to come.
I had the honor to share a stage with Ms. Friedman in 2007 at Craig Taubman's awesome event Hallelu Atlanta—she was fierce, a diminutive but dynamic force (read here for the play-by-play.) Backstage after the show, she was warm and humble. She looked exhausted, but hugged my children and patiently listened to my sycophantic blathering. She bowed out of the afterparty, and there were whispers that she had not been well for some time. It was reported that she was hospitalized last Friday for pneumonia after years of struggling with a dehabilitating neurological illness that kept in bed for weeks at a time and in pain constantly.
Somehow, she used her illness as a blessing without us knowing. She could have retired, stopped touring, given in to the pain, but instead she used it. Listen to her "Lechi Lach" while you read her thoughts on healing from from her website:
We are powerful. It is hard to remember that. Sometimes life takes its turns into the unknown and presents us with challenges we would have preferred not to encounter under any circumstances. Suddenly we are confronted with our pain…The willingness to both offer and receive blessings of healing and well-being allows one who is wounded to transform and unravel their pain. Our pain need not bury us, instead it may elevate us to the point of healing – if we choose to allow it.

With this, you become the messenger. We are not just the recipients of blessings, but the messengers of blessings as well. Remember, out of what emerges from life's painful challenges will come our healing. And ultimately, our greatest healing will come when we use our suffering to heal another's pain – 'to release another from their confinement.'
I am grateful this true spiritual leader has finally been released from her pain. May we all be the blessings she knew we are capable of bringing to the world…go forth.