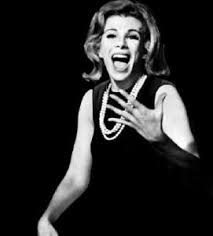 Oh, Joan, you, too?
Here we are still deep in grief over Robin and his tragically premature exit, and though our girl Betty Bacall stepped out gracefully last month at a ripe old age, the ache from that loss hasn't quite waned.
And now we've lost another treasure who made the world a little less bleak, someone who never failed to help us giggle at the absurdity of it all.
Back when women's career choices were housewife or secretary, you busted through the glass ceiling of TV comedy with a diamond-sharp wit and unabashed feminism.
You had us in stitches for 60 years—even as your were nursing stitches from all that cosmetic surgery. You could slay sacred cows on the red carpet and get away with flipping a manicured bird to anyone.
Joan Alexandra Molinksky Rosenberg, you gave us loud Jewish women permission to be as loud and Jewish as we are because no matter how opinionated and obnoxious, we could never even come close to your unapologetic, gravel-voiced, Israel-loving, "oh no she di'int" divahood.
You mined your personal pain into productivity as well as profit, and as you once said, "People say money is not the key to happiness, but I always figured if you had enough money, you can have a key made." Girl, I sure hope there wasn't a single spot left on your big blingy Gucci keyring by now.
And while we mourn your passing so deeply, I find a certain comfort in the way you went out. Clearly, being under anesthesia while under the knife was something you found endurable if not enjoyable. I have this picture of you floating up above the surgeons, looking down at your body—practically bionic at this point but still, still mortal, no matter how much silicone or titanium or snake venom was inserted into it.
I imagine you saw all the TV series and the clips and the books and the TMZ hits you'd made, and maybe you could even hear the echo of all the snorts and sniggers and chortles and shrieks you'd caused to bubble up out of us over the years, a massive sound cloud of hysterical crows.
Up there on the quiet ceiling of the operating room, maybe you found a certain serenity that had eluded you for so long, even though its absence is what had driven you all these years. Maybe you saw your frail, 81-year-old body and shrugged, "Yeah, fuck this, I'm out, assholes."
And then I like to think this happened next: With an almond-shaped red nail, you sliced through the silvery cord that binds all of our souls to this earth, gathered up your crazy fur coat, and headed towards the Great Beyond, cackling all the way.
(To see how Joan Rivers' comedy—and her cheekbones—evolved over the decades, check out The Hollywood Reporter's compilation of hilarious clips.)