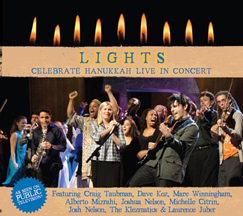 I got a voicemail early this week from one of my favorite L.A.ians, Rachel Leah Cohen who besides being a hawt talent of her own right, is also the personal assistant of the Yenta's favorite silver fox, Craig Taubman.
Apparently the two of them were sitting around Craig N Co headquarters (which I still imagine resembles the Bat Cave, except with crazy amounts of instruments and mezzuzot on the stalagtites) wondering why the Yenta has not yet reviewed the advance copy they send out ages ago of their superJewtastic musical extravaganza Lights:Celebrate Hanukkah Live in Concert airing all month long on PBS affiliates around the country.
The special brings together every rockin' name in Jewish music today, some of whom I got rub shoulders (and knock back scotch) with at last year's Hallelu concert in Atlanta: Awesome chazzan Alberto Mizrahi, Brat Packer-turned-Jewish cowgirl Mare Winningham, electricfied madman Josh Nelson (not to be confused with kosher gospel sensation Joshua Nelson, who's also on the vid) as well as Rosh Hashanah Girl Michelle Citrin, supersaxy-man Dave Koz, and of course, the Fox Himself. That is one good-looking, fantastic-sounding group of yids, yo.
Rachel, though not a Jewish mother yet, is still quite adept with the guilt, managing to tug my heartstrings from 3000 miles away: "Yenta, we need you to get the word out so people will watch this show! You're on our A-List! Where is the Yenta when we need her?"
I am not on many people's A-Lists, and I really would like to preserve my good standing with Craig N Co, if only to keep getting free CDs to review, so even though I have not been able to watch the DVD in its entirety (for many reasons, including having to spend extra time on my own Chanukah program to educate both children's classmates on why Santa doesn't like Jewish kids and because El Yenta Man keeps hogging our only tv to watch Christmas specials from the 70s) I am going to go ahead and officially say that it kicks ass and you should watch it!
If you live in Georgia, GPB will air it two weeks from tonight at 7pm (a bit unkosher of the stationheads, I know, but I think Hashem will understand if you flick on the tube after lighting Shabbat candles to celebrate the season with the family?) and again on Monday, 12/22 at midnight (because PBS knows all Jews are insomniacs.) The rest of y'all can check here to find your local listings.
If you can't find it, please contact your local PBS affiliate and kvetch. And email Craig N Co and tell them their favorite A-Lister Yenta thinks you should get a small discount when the DVD is released.