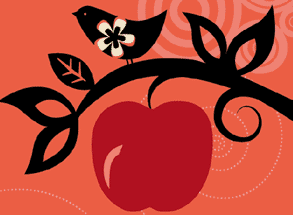 Yes, I know it's a little early for well-wishing for the Month of Elul, which begins at sundown on August 10.
Elul is last moon cycle before Rosh Hashanah, and it's traditionally a time for reflection before the new year, a chance to inventory our sins so we can present ourselves in humble repentance on Yom Kippur.
Considering my personal alphabet of arrogance, blasphemy, crabbiness, doubt, egregious sarcasm, flagrant self-pity, gross ineptitude, haughtiness, ingratitude, jealousy, know-it-allness, laziness, mouthiness, nagging, obnoxious, prude when I should be pervy and vice versa, quick to judge, rude, shallow, too loud, unkind, verbose to the point of indulgence, yellow-bellied cowardice with zero-tolerance for these qualities in others, I should have started repenting LAST month. (I know switched from nouns to adjectives in there, so let's add grammatically inconsistent to the list.)
While there are plenty of traditions associated with Elul, my favorite way to remind myself to pay better attention to my behavior is signing up for
Jewels of Elul, a short, thought-provoking nugget of wisdom sent to your inbox every day of this month written by someone smart, famous or both. Even if you've kept your sinning to a minimum this year of 5770, the Jewels are always good entertainment: Sign yourself up here.
The reason for these early Elul tidings is that the Yenta will be offline for a couple of weeks. It's finally time to collect Yenta Boy from summer camp, and the family will be heading to the mountains for some non-electric navel-gazing. I look forward to a whole necklace of jewels to contemplate when I return!