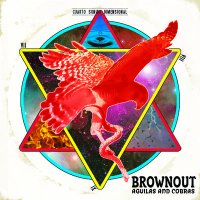 Sheesh, if this keeps up, I'm gonna have to create a whole new category.
Please meet Brownout from Austin, TX, who will be kicking out their dirty jams at the SXSW festival March 18.
I gotta disclaim: I first heard about Brownout when from someone's random Facebook comment touting the band as "filthy Afro-Latin funk with a Jewish twist," so of course, I went a'hunting for the Hebrew connection.
Turns out their music isn't specifically influenced by Shlomo Carlebach or anything, and the above album cover art design was never actually used. However, Brownout's manager David Lobel is Jewish, as is saxophonist Josh Levy, who Lobel assures me is definitely twisted. Kosher enough for me.
Here's "Slinky" from their new album Aguilas and Cobras: