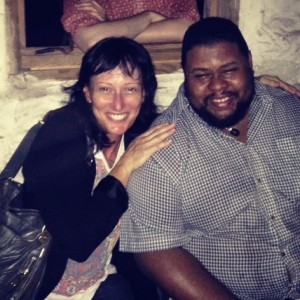 Well, slap me with a piece of wet okra and call me a real Southerner!
I had the honor to talk slave cooking, teshuvah and trayf with Mr. Kosher Soul himself, Michael W. Twitty last week and was deeply inspired by the joyful way he claims all parts of his identity. Anyone who can rock tzitzit while peeling a shrimp is my kind of mispocheh!
Here's the down and dirty account (Cross-posted at Connect Savannah.)
It's the darker side of dusk at Wormsloe Historic Site, and as I pick through the saw palmettos along the dirt path, I'm sure we've taken a wrong turn.
"No, it's just a little further," urges Forsyth Farmers Market maven Teri Schell as she strides through trees vibrating with the cacophony of cicadas.
I follow behind her, clutching my purse, and try not to shriek when I realize the mosquito I just swatted off my ear was actually a bat. I soldier on, out here in the shadowy woods to track down culinary historian Michael W. Twitty, for whom Teri and I share a certain fascination (fine, call it a foodie crush.)
Twitty has soared to fast fame since he published "An Open Letter to Paula Deen" last year on his blog, Afroculinaria, smack in the midst of Our Lady's carmelized career meltdown. In his letter, Twitty gently reminded that Southern cooking belongs to us all, but it cannot be discussed honestly without acknowledging its origins in Africa and American slavery.
Wise but not accusatory, the post burned a big hole in the internet after the Huffington Post picked it up, and Twitty has been up to his earlobes in book contracts and speaking engagements ever since.
His forthcoming book, The Cooking Gene, chronicles his adventures and insights as he recreates the meals of his African ancestors in the places they lived and worked, and his social media reflects humorous musings on cultural equality, food justice and creative uses of sorghum.
I don't know if he's the only gay, black, Jewish culinarian in the entire world, but this gent is definitely my kind of unicorn. I got all groupie-eyed when I found out Twitty was in Savannah to lead a special presentation for the Slave Dwelling Project Conference, and I'd be damned if any dark, scary forest was going to keep me from meeting him.
When Teri and I arrived at the former plantation, we heard the strike of the djembe and the traditional rhythmic stylings of West Africa—that happened to be provided by Abu Majied Major and his son, Yusuf, who I had just interviewed the day before for the article on this Sunday's African dance workshop.
The universe so does love its serendipity, and several of the themes that I'd been researching all week for that story were being discussed here around the tables, specifically the preservation of slave history in the American South and its incorporation into the mainstream narrative.
As attendees found their way from the conference's main locale at the Coastal Georgia Center, one young woman commented on the mile-long tunnel of massive trees that's made Wormsloe one of Savannah's most famous photo ops.
"It's called an 'oak allee,'" informed Reneé Donnell, a recent grad of UGA's historic preservation department. "All plantations had them. But we rarely talk about the people who dug those holes."
While the slave dwelling conference attracted academic historians and archaeologists from around the country, organizer Joe McGill noted there was almost no participation from Savannah universities.
"This subject does not appeal to locals," observed McGill drily.
That's a real shame, since Savannah is ground zero for slave history and the perfect place to foster Twitty's message of inclusive history.
I kept looking over my shoulder for our celebrity culinarian. Teri whispered that she overheard Twitty was preparing his presentation at the Colonial Life Area, "a bit" further down the dirt road.
"Might be our only chance to talk to him without a crowd," I murmured.
We looked longingly at the long line at the tent housing tantalizing food from Daufuskie Island's own celebrity chef and Gullah cookbook author Sallie Ann Robinson, then snuck away from the tables into the woods.
For a few moments, we were guided by the golden strip of marsh shimmering in the last light of day beyond the trees. Then the curtain of the forest swallows us whole, and we step out of time.
As we trudge, I'm aware how little this land has changed since Noble Jones and his slaves cut its paths almost 300 years ago. My phone and its flashlight are a pocket away, but I don't dare break the spell.
Finally, we glimpse the flicker of torchfire. We make our way across a footbridge towards the tiny wattle-and-daub shack, smoke rising from the chimney.
Suddenly, there he is: A barrel-chested bear of a man tending the hearth, sweating as he preps plates of okra and peppers on the rustic wooden table.
He is as grand and gregarious as I thought he'd be, his voice higher and more mellifluous than I'd expected.
"Come in, come in!" cries Michael Twitty, wiping his brow.
Teri and I tuck in to watch as he stirs cast iron pots of Muscovy duck and Gulf Coast lamb neck, heritage breeds raised by Bradley Taylor and Cat Compton on their sustainable farm in Sylvania. Knowing the rest of the conference will appear on golf carts momentarily, I spill out a rush of questions like chicken bones at the feet of a voodoo priest.
Though he studied at Howard University and worked at respected sites including Colonial Williamsburg, the 30ish historian approaches his discipline not academically, but as a folk heritage tradition. He remains itinerant, traveling and cooking and educating from the roots up.
"If I was interpreting at an institution or a museum, you'd never hear about me," he declares, placing a three-legged skillet in the fire by its long handle.
Though corporate network types have come sniffing around his campfires looking for the next foodie star, Twitty's not interested in being put in a box as "another black chef doing soul food." His Jewishness also muddies any notion of simple marketability.
"People want uncomplicated narratives," he shrugs. "That's not me."
I can relate. As a Jewish gal with a strong affinity for African dance, I ask about this African-American urbanite's Jewish soul.
"Roads converge," he nods sagely, explaining that he converted when he was 22.
"Judaism gave me insight on how to preserve something from generation to generation. It's a leitmotif, the obligation of the transmission of Jewish culture. Therefore, my black identity and my Jewish identity are inextricable."
Unlike this heretic, Twitty keeps a kosher home. But that's not gonna keep him from Sallie Ann's Lowcountry boil.
"Oh yes, I'm going to get down on this plate of trayf right now, forgive me," he laughs, nimbly peeling shrimp from shell in less than a second flat.
We talk about the similar forced Diasporas of Jewish and African culture and the non-racial notion of "peoplehood," a term often used in Jewish circles to navigate the ever-evolving balance between tradition and identity.
"We are but one race on this planet, but our ethnicities are the diversity," he preaches.
"Our differences are valuable."
That's what feeds his passion to protect the culinary heritage of his ancestors. And he'll kindly call out those who insist on fetishizing slave culture and cuisine—or worse, appropriating it without honoring its origins.
"Collards are the new kale," he snorts. "Please."
This, of course, brings us back to Paula Deen. He holds out hope that her people will contact him so he can bring her out to cook biscuits and hamhock around the fire, which y'all have to admit would make some good TV.
"I'm not looking for a confrontation," he promises.
"I am about reconciliation, I want to have a dialogue. I want to get people talking about how it all fits together."
With a shake of his wrist, the pan-fried veggies are done. They taste of smoke and spice and the air of the night, echoing with the presence of the enslaved people who likely ate the same dish near this very spot.
"Centuries of stories are contained in a simple meal," reminds our host.
The golf carts appear out of the dark. It's time to abdicate our private audience, and the philosopher chef launches into a new round of his fascinating schtick to the arriving group. We part with hugs and calls of mispocheh, the Yiddish word for family.
As Teri and I hitch a ride back with the rangers through the woods, it occurs to me that we've reached the Age of Meta: History informs the present as the inclusion of neglected narratives feeds back to our perception of the past. An enlightened future depends on how well we honor our own origins while holding others in the loop.
It's a lot to chew. Can we ever learn to see ourselves as a peoplehood, each one of us a unique stew of culture and DNA, nourishing and nourished by the same complicated, multi-layered human story?