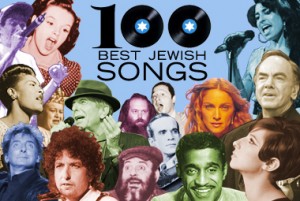 I tend to shy away from the inevitable lists that appear that last week of the year on websites since they activate a neurosis that I must read every single one of them to catch up on all that I've missed before I can start the new year, which might put me way into March.
But Tablet's 100 Best Jewish Songs managed to override the crazy because it's just SO amazing for its breadth, depth and sheer audacity (Really, Sacha Baron Cohen's "Throw the Jew Down the Well"? And what's up with placing The Shema after Al Jolson's "My Mammy"? At least it's one up from "White Christmas.")
Embracing the greats (Manilow, Streisand, Diamond), obscure shtetl folksongs, Israeli anthems and wackadoodle pop culture icons (Beastie Boys, Amy Winehouse, P-Funk) in the same giant hug, this amalgam is a gleefully awkward mash-up of the sacred and silly. Particularly #37, "Rudolph the Red-Nosed Reindeer":
Johnny Marks' "Rudolph the Red-Nosed Reindeer" is the Christmas song-as-Jewish-wish-fulfillment fantasy. It's the story of a social outcast with a funny schnozz who saves Christmas, earning the love of the goyim and a place in the history books.
Of course, we are Jews, and there's bound to be some contention. Judging from the cheeky tone of the editorial, this list wasn't so much meant to be definitive as it was to be entertaining. A reader in the comments section points out that this is really only a list of Ashkenazic tunes, meaning the traditions of the world's Sephardim was ignored—IMHO, the Ladino "Ocho Kandelikas" could have replaced Adam Sandler's "The Chanukah Song." But including Beck's "Loser" as a "schlemiel's lament"? Classic.
Here's the simple list of the 100 Best Jewish Songs, but you must check out the full descriptions for fascinating background and some major chuckles.
Seeing as some of these songs are on the Glee Wii karoake game that "Santa" left on the TV, I feel much less guilty for the crime of throwing my children a Christmas bone. Off to tackle "I Say A Little Prayer" (sung by Aretha, written by Burt Bacharach and Hal David) with new ruach.