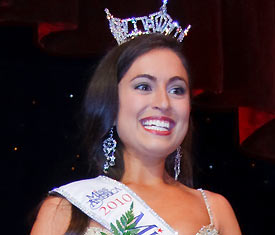 Growing up with a feminist mother who also happened to own a modeling agency, I am no stranger to the paradox of the Miss America pageant. Yes, for 90 years it's been about pretty girls with stupendous orthodontia parading around in nude pantyhose and bathing suits and high heels. But it's also about talent, presence and community service and scholarship—the winner gets her post-graduate college education fully funded. Yeah, I know—you're rolling your eyes. No one watches it 'cause these girls are smart, right?
In the early 80s, with a mouthful of dental hardware and the slumped shoulders of one whose chest entered puberty before the rest of her, I was in no danger of being swept up into the sparkly sequined world of teenage pageantry. Though my mother's agency occasionally brushed into this realm when a stage mother pushed headshots of her pancake-make-up'ed little princess into Scottsdale's small fashion industry, I remained far on the fringe of rhinestone tiaras and Vaseline smiles. I thought it was all so weird and false, especially at the local levels it seemed like only the snottiest, super holier-than-thou girls entered beauty contests. No one had to tell me that that pageants were not a place for nearsighted Jewish girls with big boobs.
But when the BIG show from Atlantic City aired, I was always in front of the TV, making fun of the opera singers and ballet dancers (unoriginal, IHMO) and being awed by the pianists and harpists (is there anything more captivating than a gorgeous woman playing a giant wall of strings?) I never felt much of a kinship with the inevitably vanilla contestant from my home state of Arizona and I definitely had an unreasonable prejudice against the Texans (something about combo of the drawl, the big hair and obviously false dental veneers offended me.) I usually rooted for the African-American women and practically choked on my retainer when Vanessa Williams won in 1984.
Come to think of it, that may have been the last time I watched the Miss American pageant. After they dethroned VWill when her (admittedly racy) nudey pictures surfaced in Penthouse, the whole phony-innocence ideal of the "perfect American woman" seemed ridiculous. I decided whomever it is wearing the sparkly crown and waving her hand like she's got the palsy, she probably ain't representin' me or mine.
But it's 2011, and whaddya know—we got ourselves a nice Jewish girl to cheer on come Saturday night. I can't claim to have a whole lot in common with Lauren Galler Rabinowitz, the current Miss Massachusetts: She's a former champion ice dancer, a Harvard graduate whose been recognized for her poetry and will attend any medical school she likes in pediatrics. She's a world-class pianist related to Leonard Bernstein, the granddaughter of Holocaust survivors and has already raised tens of thousands of dollars for charities that benefit sick and hungry children.
She's adorable, her teeth are fabulous, and she's a genuine mensch (too bad Yiddish doesn't have a feminist version of that word, but let's say in this era is just means "good human being.) And a fine reason to break my pageant boycott. Listen to some of Lauren's cute Dr. Suess-y poetry here (I'm positive her Harvard poetry thesis was much more complex) as well as vote for her as your favorite.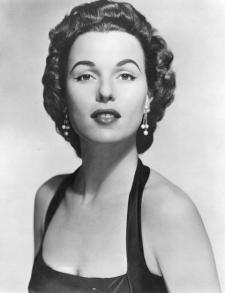 You may already know that if Lauren wins, she wouldn't be the first Jewish Miss America: Bess Myerson shocked the world when she won the crown in 1945, becoming a "modern day Queen Esther" as she stood up to anti-Semitism and bigotry throughout her reign and after. She went on to work for the Anti-Defamation League, served as Ed Koch's mayorial campaign chair, ran for Senate in 1977, raised over a million dollars for Israel and worked for the state of New York. She survived ovarian cancer and scandal in the 80's, and by all accounts, is living out her golden years in Florida. I've give anything to be able to watch Saturday's pageant with her.
So the chances of another Jewish Miss American are obviously one out of fifty, which isn't too bad, and they're even higher if the judges are as sick of Celine Dion covers as I am. You know El Yenta Man will have no patience for this and my kids will be out of town with their grandpa, so it'll just be me and my adolescent judgements on the couch. Let me know if you want to come over; I'll make Jiffypop and we can try on each other's headgears and braid each other's hair.