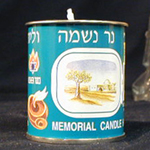 It's a date you can't ignore, even if you don't have much to say except "so sorry for your loss" to the thousands of families affected by this act of terrorism.
I'll cop giving up on the hype; I don't think we'll ever know "The Truth." Between the second part of ABC's bogus Path to 9/11 and Wikipedia's entry on 9/11 conspiracy theories (including the debunking of the Hezbollah-generated rumor that 4000 Jews didn't go to work that day), it's a murky swamp out there. ADL president Abe Foxman's report on the continuing anti-Semitic nonsense rolling around the Web is downright chilling (when will David Duke take his B.S. from MAUP and go rot in Ukraine already?)
It's been five years, and there's been no resolution for the victims or for the collective consciousness of the country — there's not even a memorial yet. Instead we've got hideous, expensive issues in Afghanistan and Iraq, more terrorist plots, an administration that's lost all credibility, and fiction masquerading as fact in every corner of the media. I pray that in another five years, rather than the current trajectory, this event will have inspired spurned a turnaround towards sanity.
In the meantime, I'm lighting a yartzeit candle and staying away from the t.v. today.