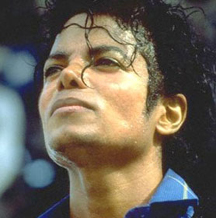 He may have rocked a Kabbalah bracelet in his 2005 trial, but honey, Michael Jackson was no friend of the Jews. Even celebrity rabbi Shmuley Boteach distanced himself from him towards the end.
Now that he's gone, I must admit I'll miss him. The Undisputed King of Pop and Perversion did leave behind a musical legacy that will likely outshine his penchant for anti-Semitic slurs and plying little boys with beer, plus his wackadoodle parenting skills always made me feel superior. Also, his plastic surgery debacles deterred me from ever wanting a nose job.
I prefer to remember him like he was in this photo – the Thriller-era of bobby socks and a sweet smile, before his freakishness overwhelmed everything.
He leaves behind three children, and I wonder if the religious drama of this story has just begun – Debbie Rowe, the mother of two of Jacko's three children, is Jewish, and Jackson's family, including his brother Jermaine, are way active in the Nation of Islam. What will happen if Rowe pursues her wish (reported in 2004) to raise the children as Jewish?
So, good-bye to a deeply talented, flawed, strange man. I hope his soul finds peace, and that those who can copy his amazing moonwalk will always impress people at parties.