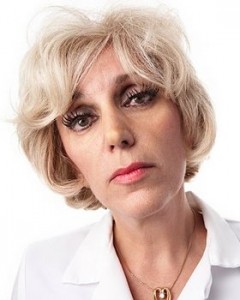 First we had Bernie Madoff. Then Rabbi Rosenbaum, the kidney-pusher. And now, to complete 2009's trifecta of Jews Making The Rest of Us Look Bad is this bleach-blond bimbshmo, Orly Taitz.
A Russian Zionist who claims that Bibi Netanyahu is her Facebook friend, Taitz is the self-styled queen of the "birther" movement – those insistent that President Obama is not actually an American citizen. "Dr." Taitz is a dentist in Orange County, CA who also claims to be a lawyer – a fact that can't be verified.
Earlier this week she claimed to have documentation proving that he was born in Kenya, on which MSNBC's David Shuster asked her to elucidate. Instead, she lost her sh*t.
Maybe now she'll go away?