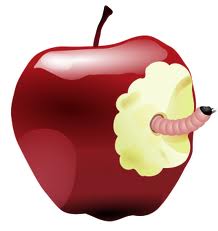 There's a pretty heavy religious poem that's recited in synagogue during the High Holy Days called the Unetana Tokef that lets us know that this whole Being Judged Business is no joke. It says that our Creator is paying very close attention to all of us at the New Year, deciding who will live and who will die by excoriating circumstances, including but not limited to being burned by fire, eaten by wild beasts or crushed by an earthquake.
The takeaway line of the Unetanah Tokef is "on Rosh Hashanah it is written, on Yom Kippur it is sealed," which means we've got about ten days to get it together and up our stakes for a better year using the spiritual currency of tefillah (prayer), tzedakeh (charity) and teshuvah (repentance). Considering just how badly we humans can screw things up, I think giving us a week and a half to turn things around is pretty darn generous.
I take this in-between time kind of seriously for someone with such an elastic approach to religion. Maybe I'm superstitious, or maybe I don't need last year's monkeys following me into 5771. (Speaking of big monkeys left behind, this holiday season marks five years since I've had a cigarette.) I try to release old grudges, pay any unpaid debts and examine and apologize for my many, many flaws, including but not limited to hostile impatience, delusions of grandeur, inappropriate sarcasm and disrespecting authority.
I'm having a difficult time with that last one. There's been some serious issues in my synagogue of late which I haven't addressed on this blog because 1) I don't want to hurt anyone's feelings (thus adding to the list of things I need to atone for) or 2) add to an already shockingly ugly situation 3) more and more and more, synagogue is becoming the most irrelevant part of my Jewish life, since I can't seem to find any inspiration nor an example of how to be a better person coming from the bima.
Ouch. That wasn't very nice, was it? But here's the deal: I chose to attend a different synagogue for Rosh Hashanah so as to avoid the political messiness and lack of spiritual connectivity happening at the home shul. When we arrived, I saw quite a few other home shul families who must've been thinking the same thing: We just want to have a quiet morning of learning how to repent, pray and ways to give without all the other crap.
Instead we were treated to an hour-long sermon about the rabbi's personal fears about Islam, his perceived disingenuousness of moderate Muslim leaders and whole bunch of other negative stuff that seemed wholly inappropriate for the bima, let alone the one service of the year when everyone actually shows up. Those who didn't leave after he announced "I am an Islamaphobe" the third time politely waited until he finished and then cleared the room immediately. I stayed with the 30 or so remaining folks all the way through the Musaf service, more to test my stamina than anything else, as it was awfully hard to regain any spiritual mojo after such a strange and uncomfortable tirade.
All I could think was "What is my religion's freaking problem with simple faith? What does a Jew have to do to get a little ruach in this town?!" Friends at the home shul reported that the sermons I missed there were also offensive, though for different reasons, and we all agree that it's been a disappointing way to herald in a new year.
Given the opportunity and the audience to do so much good, why would a rabbi choose to speak about fear over love on Rosh Hashnanah—or ever? My understanding is that a rabbi's role—in the Conservative and Reform movements, anyway—is to interpret the Torah, lead the congregation in prayer and in song, to emulate sagacity in times of trouble and to provide words of hope and faith—especially during a time when we're all trying to turn the Divine tides in our favor.
During this in-between time when what is written can be transmuted into something I want to be sealed, I apologize for questioning the rabbis of this community and ask for forgiveness for the anger and frustration. I also pray for solutions for this community, for connection, for peace and for prosperity.
I don't know where I'll be listening to those last shofar blasts at the end of Yom Kippur on Saturday, and I guess all this confirms is what I've suspected all along: It's up to each of us to cultivate our own faith, and in lieu of examples, we must do our best to be our own with what we've got.
That said, I may bring in 5771 with a webcast from L.A and a kazoo.