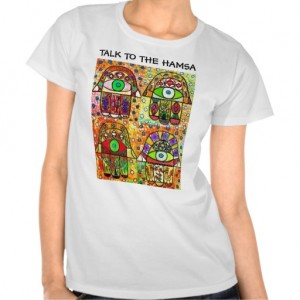 I haven't done a "T-shirt of the Week" post in a while, as the demand for snarky Jewish t-shirts seems to have waned in the world.
Which is a real shame, because I really miss the idea that I might see someone rocking a Guns N' Moses shirt one day. (Eat, Pray, Kvetch was pretty classic, too.)
But in today's interweb travels I came across this adorbs "Talk to the Hamsa" shmatte from Zazzle.com and rejoiced!
First off, I believe that "talk to the hand ('cause the face ain't listening)" is one of the best linguistic contributions of the '90s. (Well, besides "your mom" jokes.)
Also, I've been obsessed with hamsas as my Jewish symbol of choice for some time now. They're amulets shaped like hands with an eye in the middle and supposedly bring good luck and protection not only in Jewish traditions but also as Islam's Hand of Fatima, and I dig anything that builds bridges between faiths.
Also, as hamsas are associated with Torah shero Miriam and Muhammed's awesome daughter Fatima, they are inherently feminine symbols, the perfect representation of the shekinah, or Sacred Feminine. What better emblem for a post-modern Jewish feminist who loves pretty things, I ask you?!
Apparently I'm far from the only one enamored with hamsas: Our little Semitic hands are enjoying quite the cultural tsunami as of late. (See: Etsy.)
Though when you can buy a  5000 year-old icon meant to stave off the Evil Eye at Urban Outfitters, does that means it's jumped the shark?