Listen, when I moved to the deep South from the hippie nether regions of Northern California, I had some serious slaps upside the head.
First, boiled peanuts. Also, the weird thing the South does with marginalizing and often outright ignoring its history of slavery.
And then there's the secret social code.Other than reading Gone with the Wind when I was 10, I really had no blueprint on how to fit in, and I sure as shit wasn't gonna make anything pretty to wear out of the curtains.
These days, I feel pretty good about being a Southerner these days. I write a lot about pervasive and persisting socioeconomic and environmental issues in the Civil Society Column for Connect Savannah. I've documented some of my misadventures in Confessions of a Hapless–But Not Hopeless–Southern Belle.
And I have to say for the most part, my experience of the last few years is that the South has as vibrant a progressive and hip momentum as anywhere, only with better side dishes.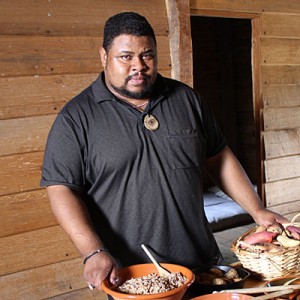 I mean, when Southern Living — the favorite magazine of steel magnolias for over a century — names a black, Jewish renegade slave historian as one of 50 People Who Are Changing the South in 2015, you know change has already come, nu?
Check it out:
This year you might see food historian Michael Twitty of Afroculinaria camped out at landmarks across the South re-creating historical meals with local chefs—one of the many ways Michael is preserving African-American foodways in the region. Be on the lookout for his forthcoming book, The Cooking Gene, which documents his personal journey exploring the connection between food and history from Africa to America.
I had the honor and joy of hanging around the fire with this visionary a few months ago, and I'm so pleased to see him included on a Super List with The Bitter Southerner, feminist beermakers and an Avett Brother.
Mazel tov, Michael!