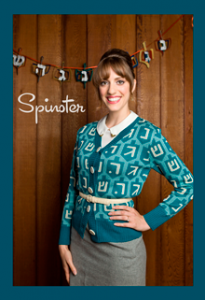 I looked at the calendar this morning and saw that Chanukah is in less than four weeks WHA'?! I've barely finished picking wax out of the carpet from last year!
Actually, I loooove it when the Festival of Lights falls early (as in, before Christmas) because we get our holiday season all to ourselves — and then we get to schnorr everyone else's. (Who's a sucker for candy canes? This girl.)
I'm already singing holiday songs–especially this lil' ditty, the Great Dreidel Tournament by menschy children's entertainer Groovy David Brownstein. Listen here and hum along with me!
Dude is based in L.A., which is a bummer 'cause he'd be an a-MAZE-ing DJ for Yenta Boy's bar mitzvah. Riddle me this, peeps: WHY ARE MEN WITH PUPPETS SO SEXY? El Yenta Man's getting a marionette this year, for sure.
Even though I will probably still be running around town for menorah candles on Dec. 8, I had the wherewithal to order this super spectacular dreidel cardigan from Modern Tribe as my gift to myself. (Spoiler for the goyim: The eight presents thing only applies to kids.)
I plan to wear it EVERY SINGLE DAY of Chanukah as payback for the hideous red and green snowman attire I will be accosted by the minute Thanksgiving is over.