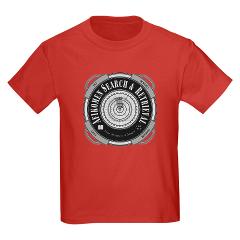 Attention all members of the Afikomen Search & Retrieval Unit 613! Your uniforms from Jewnion Label are ready!
But you know who's not ready? This yenta.
Yes, I should've been chametz-hunting this weekend like a good Jewish mama, but we all know how that usually goes for me.
Instead I accompanied Yenta Boy to Athens for the Georgia State Science and Engineering Fair, where he and his buddy Luke won third honors for their time perception project, a riff on Einstein's theory of relativity shaped like Dr. Who's TARDIS. More on that on this week's Civil Society Column, posting tomorrow.
So I guess I'll be spending the afternoon clearing the house of treyf cereal and hot dog buns while I finish off all the stray beers hanging around the bottom shelf of the fridge. Should put me in fine form for the seder, which I am so please NOT to be hosting that I may perform my special Dance of the Ten Plagues for everyone's enjoyment. Whoever finds the afikomen will also get a sloppy kiss from Auntie Yenta, likely ensuring that we will have to host our own seder again next year.
Chag Sameach, y'all. I gots cleaning to do. And a "Locusts" segment to choreograph.