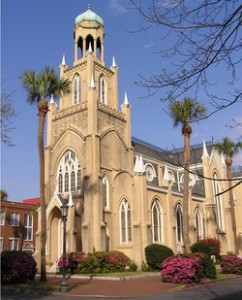 There's a fab article in the current NY Jewish Week by Carolyn Slutsky on Jewish Savannah's 275th anniversary, calling the city "an island of stability in a boom-or-bust South."
Maybe I'm a little sensitive, but that sounds like a veiled blow to the sloooow pace of the Hostess City. I hear all kinds of comments about how nothing ever changes in Savannah, and I'm sure that's how it seems to a fast-paced New Yorker. But I have to say, plenty of things have changed – for the better – since I moved here two years ago (to the month!)
First off, mid-week Hebrew for grade school students has been efficiently reduced from two afternoons to one (more time for Yenta Boy to practice piano.) And the city's green movement is flying – the new organic farmer's market headed by Jewish hipster agrarian Farmer D Joffe at Trustee's Garden was packed last week. Plus, the meshuggeneh-making intersection of Derenne and Abercorn (one could spend a half an hour trying to get home from Publix before the ice cream melts) is buzzing with bulldozers to make a right turn lane as I write! How can anyone accuse this place of resisting progress?
No, for real, it's super exciting to be a part of the 275th festivities at Mickve Israel this weekend. Yenta Boy is reading a section at tomorrow's Shabbat service (we've been practicing how to pronounce "iniquity") and I'm particularly proud of how gorgeous the glossy commemorative journal turned out. I volunteered to edit all the articles on the congregation's history and first families, and now I feel like I've been bestowed insider status – which don't come easy 'round these parts. My father-in-law likes to joke he's still a newcomer to Savannah because he's only been here 40 years. I feel pretty blessed to have been welcomed into this community so quickly.
Well, it might be that I pushed my way in. But no matter, I'm here to stay!
Read the NY Jewish Week article here.