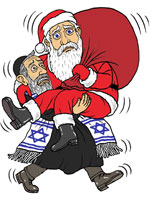 Pretty much everyone's seen the truly frightening footage of the pre-dawn shoppers trampling each other the Friday after Thankgiving. As my mother might say, "SFTG." (Email me if you need a translation.)
I don't care if Wal-Mart is freakin' giving away portable DVD players coated in caviar with every purchase — you couldn't pay me to participate in Christmas shopping mishegoss. My predatory shopping instincts keep me waiting patiently while the rest of them exhaust themselves in a credit-card shtupping frenzy. As America sits bloated in its new scratchy snowflake sweaters machine-knitted in China, watching the new flat screen TV's with 20 percent interest piling up at the windowsills, that's when I will pounce, still lean, at the top of my form, sweeping through the clearance racks to find the best bargains of the year — a scavenger, maybe, but one without debt. And I just really hate crowds.
So, sorry I won't be doing my share to keep the American economy flush this holiday season. Apparently there are those who think the Jews can save Christmas with a "large season-end surge" since Chanukah is late in the month, but as Daniel Gross astutely points out in his Slate.com column, that given our numbers, it would be impossible for Jews to have much of an impact on nationwide sales. No matter how many pairs of shoes I buy, we're just not that powerful a consumer bloc.
Quips Gross:
"Over the centuries, anti-Semites (and less frequently, philo-Semites) have endowed Jews with the ability to perform mystical feats. Saving the Christmas holiday shopping season isn't one of them."
There ya go, pressure's off. See you at the post-Xmas sales.