El Yenta Man and I finally managed to get to Connect Savannah's Best of 2010 Bash last night after split-attending a soccer game, a piano lesson, a PTA meeting (at which Yenta Boy won a district-wide essay contest! kvell, kvell) and a walk with a constipated dog.
I missed my name called the first time, but fortunately, Connect Savannah's editor Jim Morekis gallantly gave me another chance to accept my "Best Local Blogger" award and show off my farpitzed* self. (*farpitzed – sounds like a bodily function, but it means "done up to the nines" in Yiddish.)
Jim also penned this mighty kind article about your Yenta for the paper, which includes my most favorite quote I've ever given while blathering on about myself:
"I'm just trying to make sense of the otherness I've always lived with and reveled in. Who wants to fit in, anyway?"
I sent it a couple of different photos for Jim to use on my bio, and even though I lurve photographer Jade McCully's original that's in the paper, I think this snap taken late in the evening at a recent supersonic bat mitzvah might've fit better with the quote: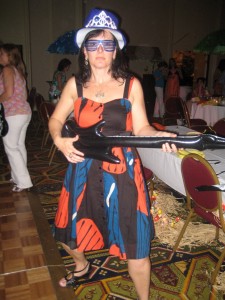 Thank you so much to all who voted. Read the rest of the Best of 2010 Winners here!